It was time to head Newcastle today, so it was up early for another one of our delicious breakfasts of cereal with berries and some toast and jam. (the jam that we may or may not have nicked from the patisserie restaurant)
With Linnie at the wheel listening away to an Outlander audiobook, the 2 hour drive flew by and we were pulling into a park out the front of our next hotel in Newcastle.
Too early again to check in, we leave our bags and go for a wander. We walk to the main square and can hear sirens and announcements coming from the main shopping area and oodles of people everywhere.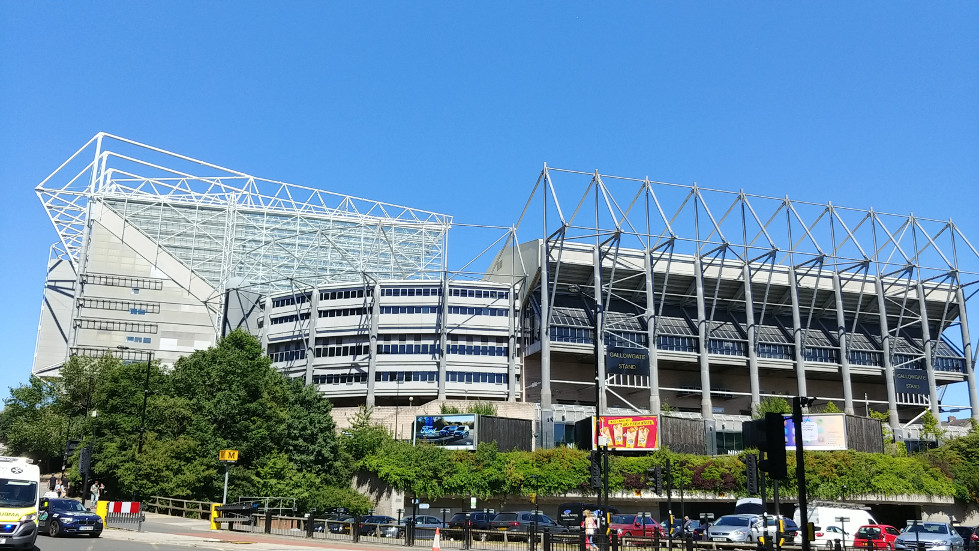 We had no idea what was going on but we learnt later on in the day, there was some sort of issue with the water mains and the whole shopping centre with 100's of shops inside had to be evacuated.
It being another lovely day, I'm sure all the shopkeepers were loving the break as many were sprawled out soaking up the sun.
Set up in the square was a big screen that was showing Wimbledon that had only started a couple of days ago.
Deck chairs lined the square in front of the tv and looked very enticing, however, they were all being used. So we drop into a cafe nearby and grab a scone, a brownie and a coffee and chill out for about half an hour.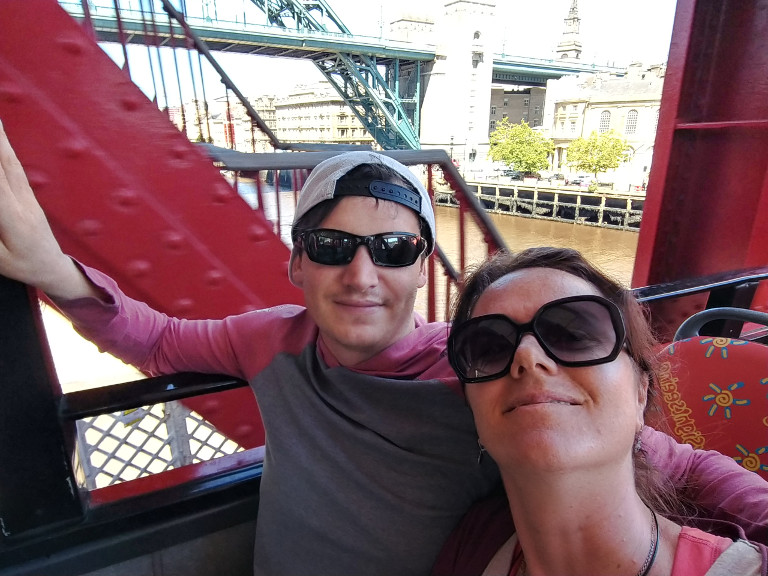 Not having anything to do for the next couple of hours until the Switzerland vs Sweeden game was on, we made the executive decision to ride the good old hop on, hop off bus around town.
We were fast becoming big fans of the sightseeing bus, they offer a wealth of information about the town and also take you to all the must-see places.
On our travels we saw some of the oldest buildings in the city, we got to go over the river Tyne and see 5 bridges all in the one area including a pedestrian bridge that tilts up and down so boats can still get in.
We went past 3 museums, the most prestigious street in Newcastle, the main railway station and back up toward our hotel which was right next to St.James' Park soccer ground where Newcastle play.
All up the tour went for about an hour and we were dropped off right where the remains of the old city wall still stands, which is now a historical listed site. Not quite as impressive as the York wall, but impressive none the least.
We walk up to the soccer stadium to watch the Switzerland game in the sports bar below, which claims to be the biggest sports bar in Newcastle.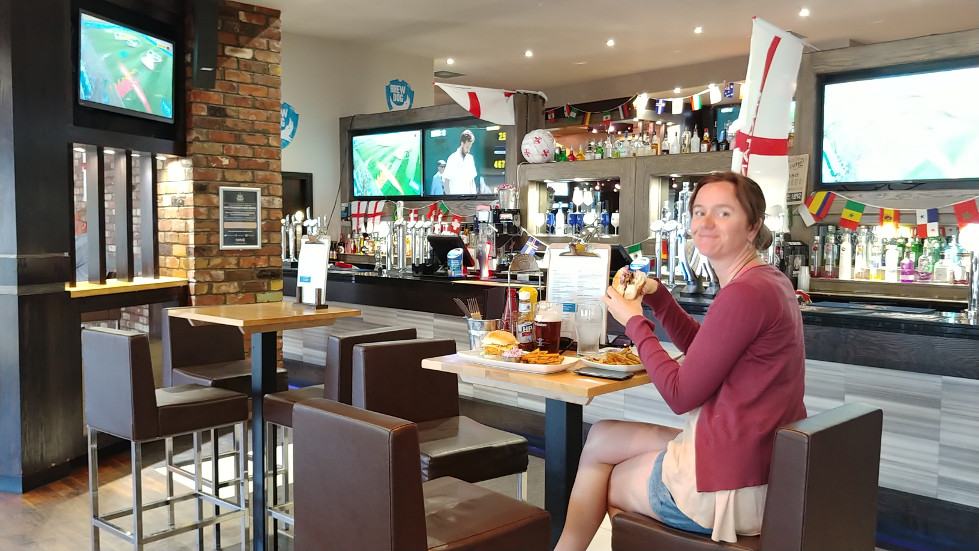 A bit of a stretch as it wasn't huge inside, but it was a nice bar with TV's covering nearly every bit of wall space.
We hang here for the game and order up some burgers which were damn good and stay until halftime as the game was dragging on a bit and it was time to check in and see our new digs for the night.
We collect our bags and head up to the top level and watch the rest of the game in the room while we rested our legs and heads until full time with Sweeden getting a late goal and knocking out Switzerland in rather unspectacular fashion.
England vs Colombia
Now it was time to find somewhere to watch the England game. We head back down to the main square and to our delight find some deck chairs free at the big screen area.
We sit here a while and wonder why the place wasn't filling up… so Linnie asks the guy working there if they will be playing the game, it turns out they weren't as there was another big screen set up elsewhere where you had to pay admission… Jerks!
So we head to this live site only to find it sold out.. Bugger.. The old dude back at the square gave us his recommendation, The Goose, so we dropped in there only to find a whole bunch of other old people…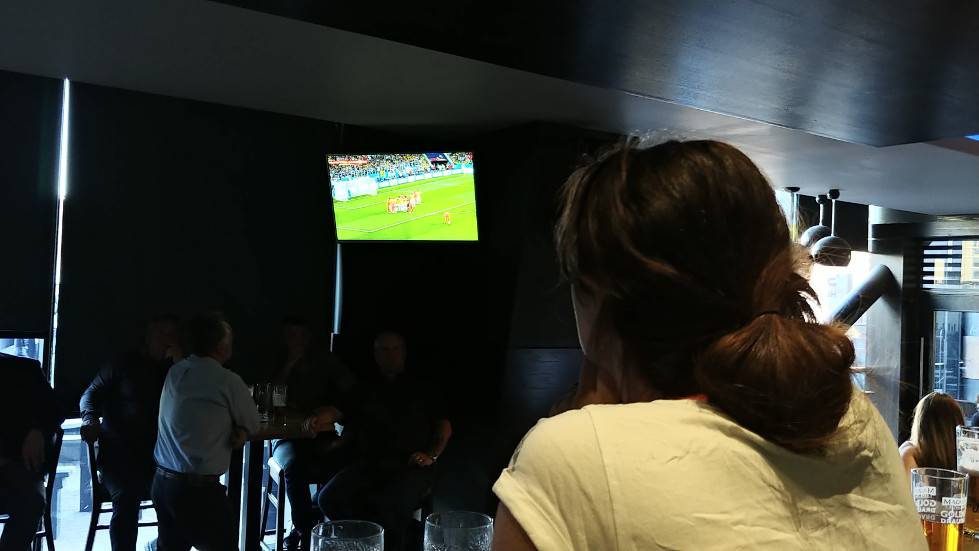 Not really the crowd we were looking for. So we head back to the sports bar where we had lunch and set up camp along a bar table.
The place soon filled up and the atmosphere grew, everyone pumped for the England game. And boy what a game it was, so many ups and downs, disappointment and elation.
England scored early in the 2nd half and looked set to win the game when Colombia scored on the 94th minute. So it another 30 mins of extra time was played with any score so it meant a penalty shoot out.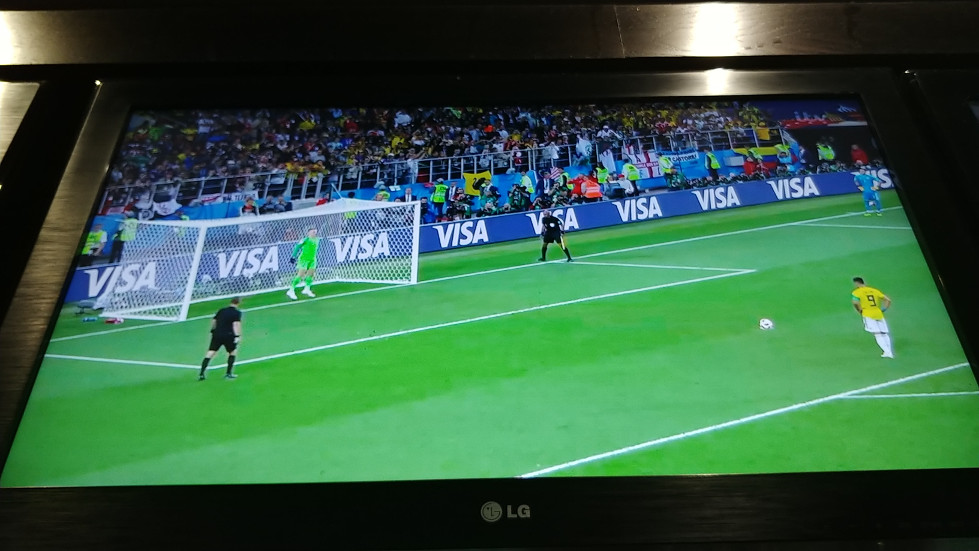 This didn't suit England as they NEVER win on penalties. Boom, Colombia get their first, then England get theirs, the place goes crazy.
Boom again, Colombia score, and then again England get theirs in return. Again Columbia line up and it goes in, England line up and MISS!
The whole bar groans in unison and hold their hands in their heads, it was happening again!
Next Columbia line up and miss as well! The scores were back to even with England on the line again and SCORE!!
Hope has been brought back to all the England fans! Colombia line up for their last kick and miss again!!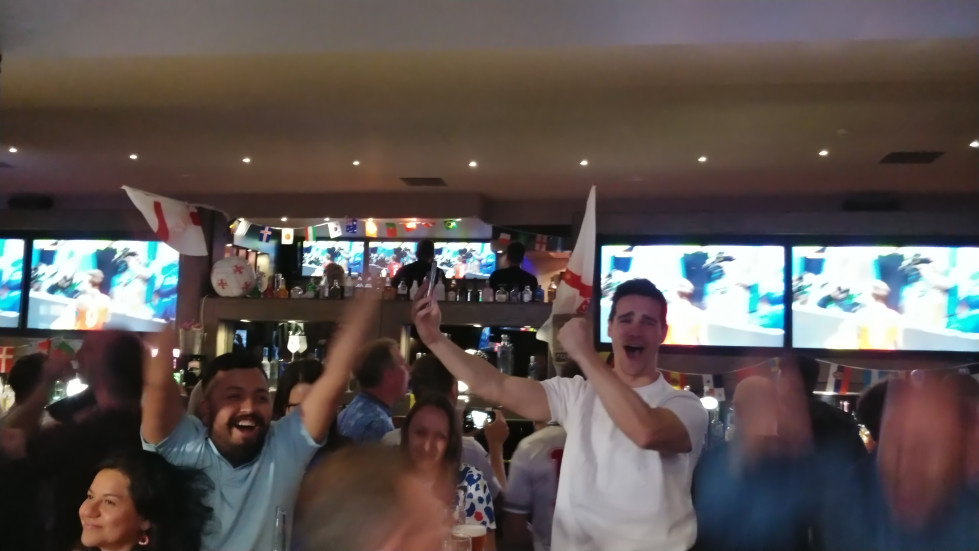 So all England have to do is get this in, and they are through.. AND SCORE! The place went crazy, it was such an amazing game to be a part of and easily one of the best we have seen.
We go out onto the streets and there are people singing and cheering and dancing. If this is what it is like when they win the round of 16 match, it would be amazing to see them take out the Cup!
Not having eaten at all with the game going for so long with extra time and penalties, we duck into the Tesco grocery shop and grab some chilli bean soup and some corn chips for yet another delish hotel dinner and settle in for the night, although, I don't know how we will sleep!
Where We Stayed in Newcastle