Ring, ring, the sound of the 6:30am alarm roaring, signalling us to get up and get ready for our drive to London, with a quick stop in Oxford.
Given Oxford was kind of on the way from Birmingham to London, and our lovely hosts in Snowdonia recommended we visit Oxford, we decided to do a quick stop by.
We packed our bags, checked out and were at the car shortly by 7am. Strangely, we were the only car in the car park.
The GPS said we would arrive at 8:38am, but horrific traffic saw to that, pushing our actual arrival time out to about 9:15am.
With it being another 2hrs to London and having to drop the car back by midday, it mean't that we didn't have long to explore Oxford.
We took a quick walk around the central area, grabbed a coffee and really liked what we saw. Then on the way out we drove through an area named Summertown. This is definitely an area we could see ourselves living when we come over to the UK to live!
Now it was onward to London. The GPS had an arrival time of 11:19am, but we knew better than that.
The traffic to London was even worse than Oxford. Some parts were just a standstill and our arrival time blew out to about 12:30am. It was excruciatingly bad, confirming that we could never live in a city like London.
Finding the Hertz drop off zone was easier than expected, which was a bonus. We dropped the car off quickly, then set off to check into the hotel.
We were staying nearby St Pancras Station. Unfortunately we were unable to check in, so decided to go find somewhere for lunch. It didn't take long to find somewhere nice nearby with veggie options.
Rather than go back to the hotel, we went for a walk to the Prince Of Wales Theatre to try and get tickets for Book Of Mormon, until we realised that 2x tickets would cost $350 AUD, so decided to try our luck in the raffle.
By now it was getting on, so we went to check into our room, which was on the bloody top for with about a million flights of steps. Unlucky!
After a quick rest, we were back on foot to the theatre to try our luck in the raffle. Like the last time, we unfortunately missed out. Ironically, there were three other groups of Australian's who managed to score themselves tickets. Ah well, not to bother.
We spent the rest of the arvo walking around and even went to the lego store, which was huge.
With it now being tea time, we thought we'd continue our Hard Rock Cafe tradition on the last night of holidays, but upon learning it was a 30-minute wait, we changed our minds and went elsewhere.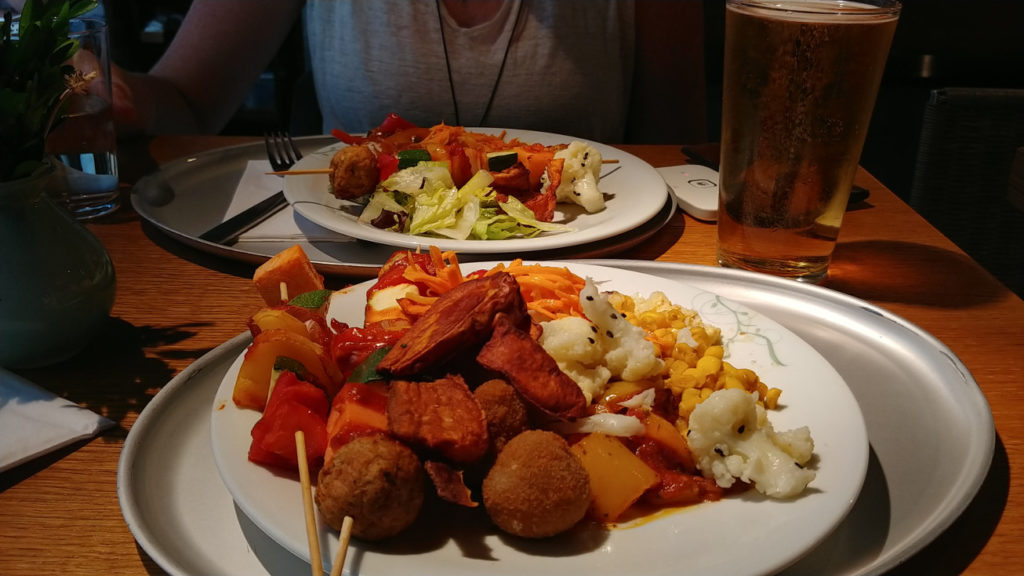 Turns out it was an inspired choice. We found a vegetarian restaurant called Tidbits where you fill up your plate with what you want, then weigh it and pay by how much it weighs.
It was seriously the nicest meal of the holiday so far. There we dessert options too, so we pigged out on that as well.
After tea we continued walking, this time to The Regent's Park, where we sat around for a while, enjoying our last bit of sunshine before heading back to a terrible Ballarat winter.
With our trip finally coming to an end and over 20km walked today, it was time to go back to the room. Tomorrow we head back on a 1pm flight, so we need to be up nice and early to get to the airport.
More London Photos
Where We Stayed in London