We awake in the sun-filled loft and make some breakfast before our trip to Leicester. This being the first Airbnb with very limited (if any) amenities, we were lucky to get bowls to make the breakfast with!
A quick goodbye to our hosts and we were off.. until we hit the dreaded English traffic… Adding small amount of time onto our trip yet again, we finally make the 2ish hour drive to our first stop for the day, Cambridge.
Linnie discovers an amazing parking app and it pays off, showing free parking down a very secluded side street that backs onto a very pretty park.
We pull into the last spot in the area and thank our lucky stars as the parking everywhere else was insane.
As we walk out, Adam spots a little lake with, you guessed it, a whole bunch of Mallards. So we quickly hurried back to the car and got a couple of handfuls of our cereal and before we knew it, Adam had a flock of about 30 ducks all around him going crazy.
The food all good we farewell the ducks and head into town to see the prestigious Cambridge University in all its glory.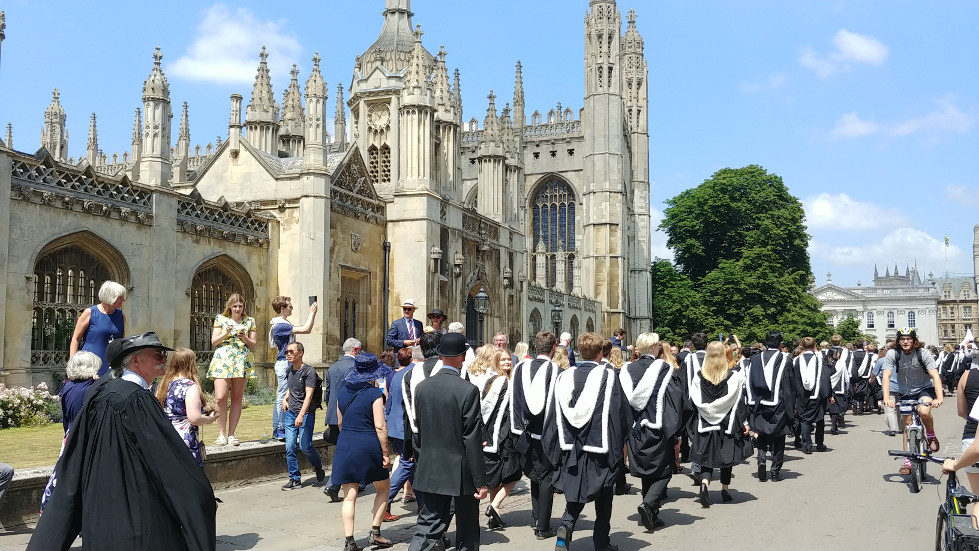 And boy was it ever prestigious! The buildings were huge, ornate and grand and went on for what seemed like entire street blocks. We would go past one campus, and then see the gates to another, then there was a chapel and then the campus gardens, it was HUGE!
We turn a cobblestoned corner and see a huge line up of students all dressed in black robes with a white fluffy trim, graduates!
There were oodles of them, all lined up walking two by two with eager photographers following them snapping away.
The main courtyard of the University was buzzing with the proud graduates and their friends and family all dressed up in their best, it was quite the sight.
Getting a little ravenous, we stumble upon a little market in the middle of town and grab ourselves a Portuguese bean stew with rice and eat it while walking back to the car through the park. Which I might add that we shared with a herd of cows…
Back in the car, we make our way to Leicester and check into our Airbnb which was no easy task. It required a gate code, a code to get into the building and then a code for the lockbox by the door. So many codes to remember!
We meet our new host and then head to our room which was up a very shaky spiral staircase and into a very cool industrial like loft.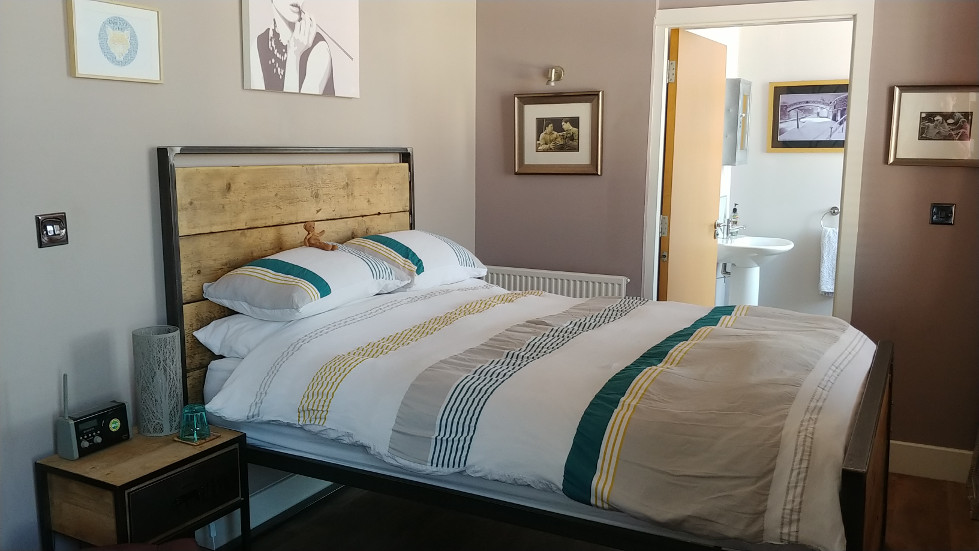 Time to finally head out to meet someone a little more familiar, our local Leicester friend Matt, who offered to show us around the town and take us to the local to watch the England game.
We meet up and head over to the cathedral to see where they buried King Richard II, who they randomly found in a car park back in 2012.
Along the way, we also stopped into a random pub to watch the end of the Senegal vs Columbia match, which was an epic finish.
Then we headed to one of the worst bars in Leicester, we had to see all the best parts and the worst I guess!
Onto The Locker Room next to try and get a seat before it got too busy. And boy did it, no sooner had we snagged a seat then a whole flurry of rowdy fans come and filled the entire place.
The pre-game was a little mad with the bar playing all the soccer theme songs from the last 20 years of World Cups, the whole place was singing and chanting and getting very excited.
As for the match itself, it was a bit of a weird one. England were obviously not playing to win, because second position secured an easier passage in the knockouts.
Belgium ended up winning 1-0, but the English fans were not all that bothered, knowing the loss was actually a good result.
It was a superb atmosphere throughout the game with the fans chanting almost the entire time. At half time we got absolutely drenched in beer with the fans going mental throwing beer around. Why, we'll never know.
The game ended we headed somewhere a little quieter, and dryer, and hang out with Matt as he had to leave soon to catch a bus home.
But before we knew it, it was near on midnight, and with the bus missed about 2 hours before, we head out on a late night road trip to take him home.
On our way home, we fill up with petrol while the roads were quiet and then make our way home, happy to be falling in bed, even if we did smell like beer.
Where We Stayed in Leicester