An early morning walk was on the cards today, but not before a quick 30 minute trip to the White Cliffs of Dover.
Finding a park, we take one of the three paths down to the cliffs which gave us an awesome view of the Dover Dock with its many ferries pulling in and out and a multitude of trucks and passengers loading and unloading.
Winding around the cliff side, we come out to a clearing and are struck with the white cliff faces that make this area so famous.
Leaning over the edge the cliffs felt chalky and left a white dust all over our fingers. While from far away they looked as hard a rock and even shiny in some places.
We continue walking along the cliff edge for nearly 2 hours, only ending the walk to come back as we ran out of track and hit a fence. It was so beautiful to be out with the fresh wind in our faces and not to be confined in a stuffy car stuck in traffic.
With a little extra persuasion on Linnie's part, we took a detour back home and climbed a section of steep hill that was nearly vertical.
This may not seem huge, but Adam can barely even look near the edge of anything high, so to climb a steep hill right near a cliff edge was a very big, and brave, deal.
Getting back to the car our calf muscles were singing slightly, but it was onwards and upwards to Dover Castle next, which was only 5 minutes away in the car. A far cry from the usual hour to a new destination.
Upon entering the castle gates we see that this castle has a roof, all its windows and walls intact. It looked like it had only been built within the last 100 or so years compared to its actual age of 900.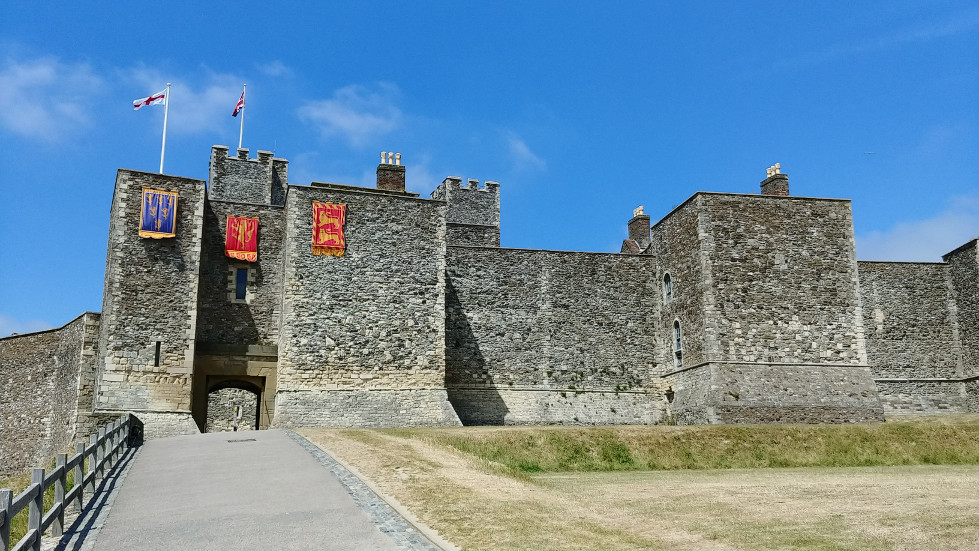 Before heading inside, we go down to a series of tunnels that run underneath.
These tunnels have been used for so many different things including a base for WW2 communications when the evacuations of the English and French were taking place in Dunkirk.
The Audio type tour was ok, but it was quite eerie walking down the same tunnels that had once held and sheltered so many people.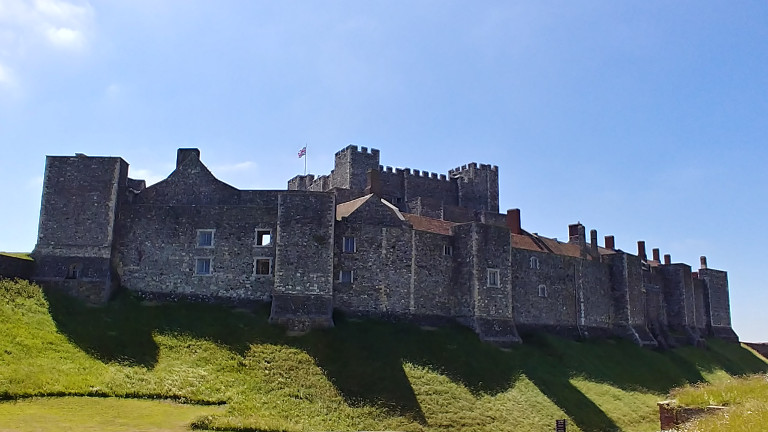 We pop out of the tunnel, and after walking up an appetite at the cliffs, we tuck into some lunch of a baked potato, bakes beans and some salad. We sure were eating some weird food combinations over here.
As it turns out, Dover had restored the castle to its former glory, even the inside was made to look how it used to back in the day.
This was amazing to see as all the other castles we had visited during our trip was just a shell and we had to try and picture how it would have looked.
Wandering through the main part of the castle, we go through a fully set up kitchen, a lodging area with beds with a real fire roaring away.
We see the great dining hall, the kings room, armouries, a little school room and a closet. All fully furnished top to bottom with tapestries on the walls, curtains on the windows and blankets on the beds. It was very cool.
Heading outside now we can walk the outside perimeter of the castle wall and see where they placed cannons, gunpowder rooms and even had airstrike gun platforms which I guess they added much later on.
The castle explored inside and out, we head back to the car and head back to Canterbury. After a quick rest, we take our laptops down to a patisserie and have a scone and a muffin while we catch up on some work, being that our wifi was terrible at the house.
With the terrible wifi that we have had over and over in the UK hotels and Airbnb, we pop into a phone shop and purchase ourselves a little mobile wifi modem. There, problem solved, no more shite wifi.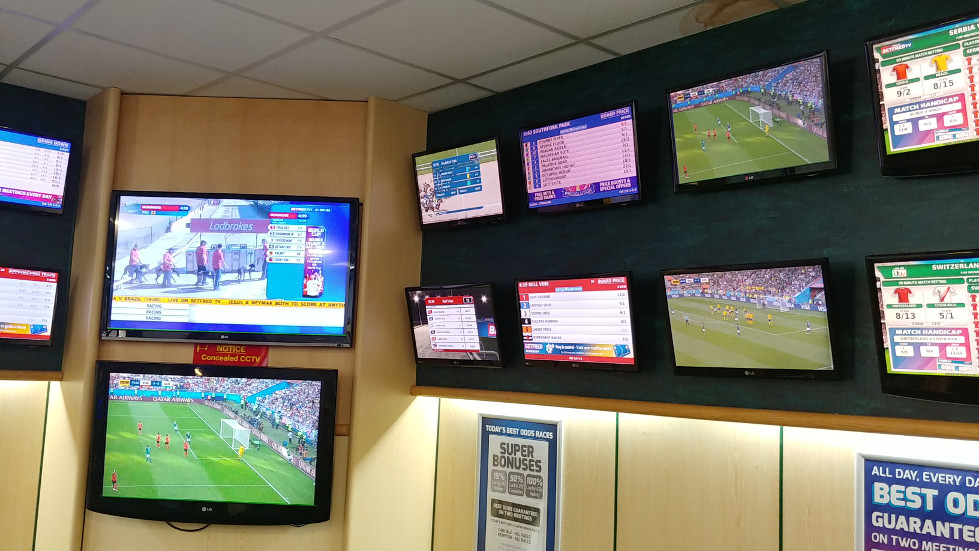 Then we realise the Germany vs South Korea game was heading to an epic finish, so pop into a Betfred to watch the final 10 minutes.
Turns out it was a good idea on our behalf. It was an epic end indeed. With Germany playing for their World Cup lives, South Korea put two goals past them in stoppage time to pull off one of the biggest upsets in World Cup history.
We head back once again stopping by the grocery shop to get our favourite makeshift dinner, chips and dip. With a bit of a tweak from the normal corn chips and salsa, we have now added in a bean dip, which was damn delicious.
And now the time we had all been waiting for was finally here. It was time to go and see Derren Brown!!
Now if you have never heard of Derren Brown, he is a total master at reading people, getting people to do what he wants, he can hypnotise you in the blink of an eye and he knows what you are thinking at all times.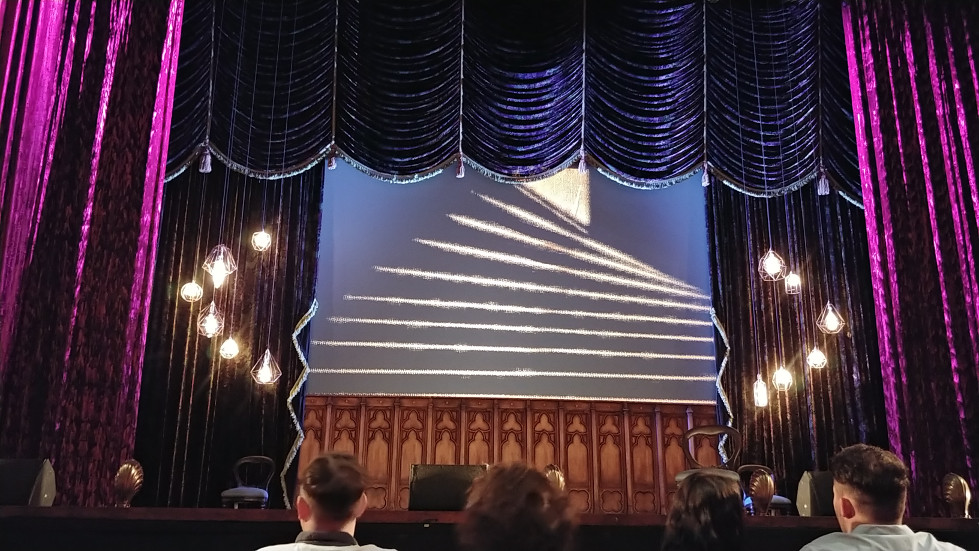 Some people also say he is a warlock because what he does is just mind blowing and cant be explained any other way.
And his show was no exception, not wanting to give away any spoilers, and because Derren asked us to keep what we saw a secret, I can't say much except that he is exceptional but at the same time scary as hell. It was a pleasure to watch this man at work live in person, it won't be forgotten in a hurry.
Walking back to the house we are lost for words and cant explain what we just saw. Time for bed and what will be dreams, or nightmares of being hypnotised or made to do something thinking that we had a choice… Scary.
More Photos from our Day