Today we had planned to be a day of museums, but as we would soon find out, all of them were closed as it was New Years Day… Bugger.
So a quick change in plans saw us heading to the Montparnasse Tower which is meant to have the best views of Paris. But, it was so foggy you couldn't even see the top! Which meant we wouldn't be able to see anything from the top either.
Another change in plans saw us heading to the Eiffel Tower instead, we were saving this for a clear day, but we can still see the first two levels so we join the line to buy tickets.
We take the monumental amount of stairs to get to the first level and enjoy the views from all directions and then head up to the second level. It was so cold up there that the bars and dividers had ice on them. It was chilly!!
Taking in the view for a little while longer, we take the stairs back down to the bottom and head over to the little Christmas market that we saw set up.
Here Adam finds a little Eiffel Tower replica to add to his collection of trinkets from around the world.
Eiffel Tower View
Being so bitterly cold today, we take advantage of our two day Hop On Hop Off Bus pass and jump back on the bus. Not quite like the buses we had yesterday with comfy seats and heating, this one was rattly and nearly killed us with fumes from the engine.. Ick!
We jump off at the same spot we got Lindt hot chocolates yesterday, all excited to have another, only to discover that Lindt has also closed for New Years… Arrrgh!
It being close to 2pm now, we were getting quite peckish, so we duck into a café and scour the menu for something warm. The table next to us speaks up and says how amazing the soup is. As it turns out, they were from Perth, what a small world.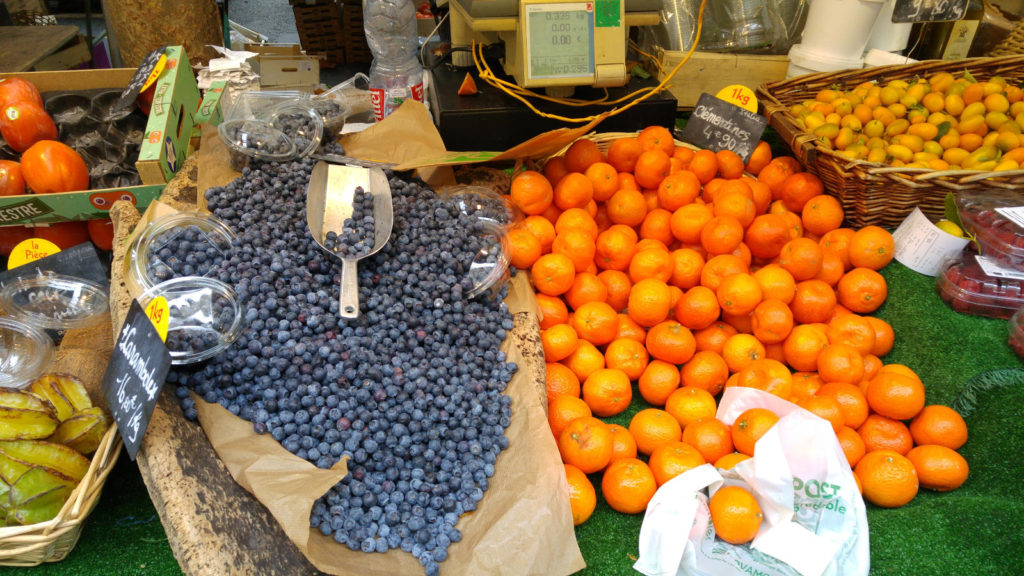 Full of soup, bread and chips, we head back out into the cold, this being by far the coldest day we've had to far with the air being so thick. It was like walking through a cold ocean. So we decide to head back to the room to get warm, it was ridiculous!
After a long rest (and the beginnings of a cold) we rug back up and brave the weather outside. Luckily the cold wind had passed and walking the streets was bearable yet again.
We make our way to Laundre who supposedly have the best macaroons in all of Paris. With so many flavours we decide on pistachio, coconut and chocolate. They were deeeeeeelicious and definitely the best we have had so far.
As we weren't too far from the Notre Dame Cathedral, we make our way there to see what the famous building looks like at night. On the way we stumble upon an amazing café/restaurant area that was buzzing with people everywhere.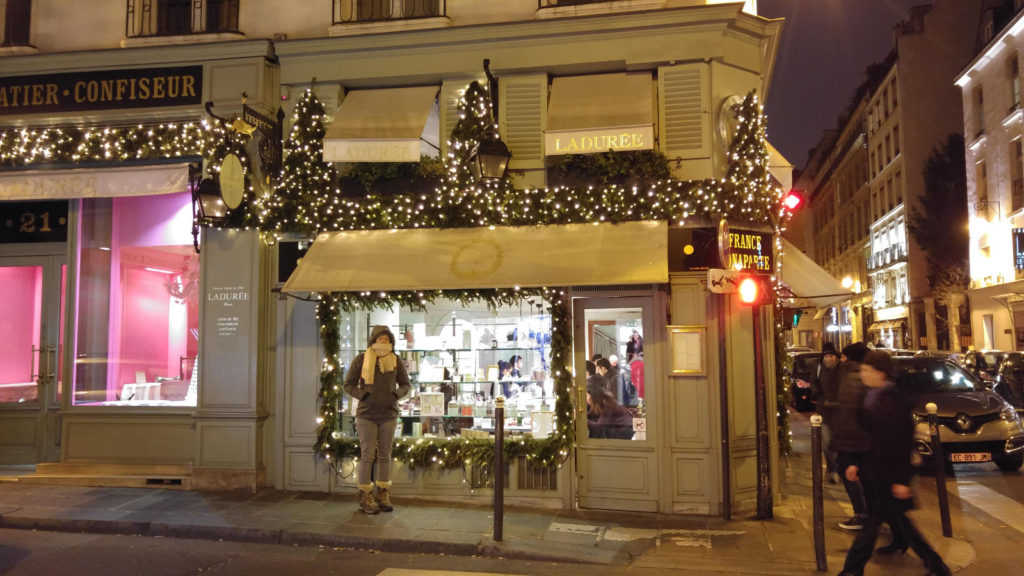 We navigate through the crowds and come to the Norte Dame, it looked amazing. The building was lit up to look like it was glowing. We wanted to go inside, but the line was massive.
We put the Norte Dame back on our to do list and head back to get some dinner.
Spoilt for choice, we find a very sophisticated and cozy Italian pizza restaurant and head inside. We order up some walnut gnocchi and a vegetarian pizza and have a feast.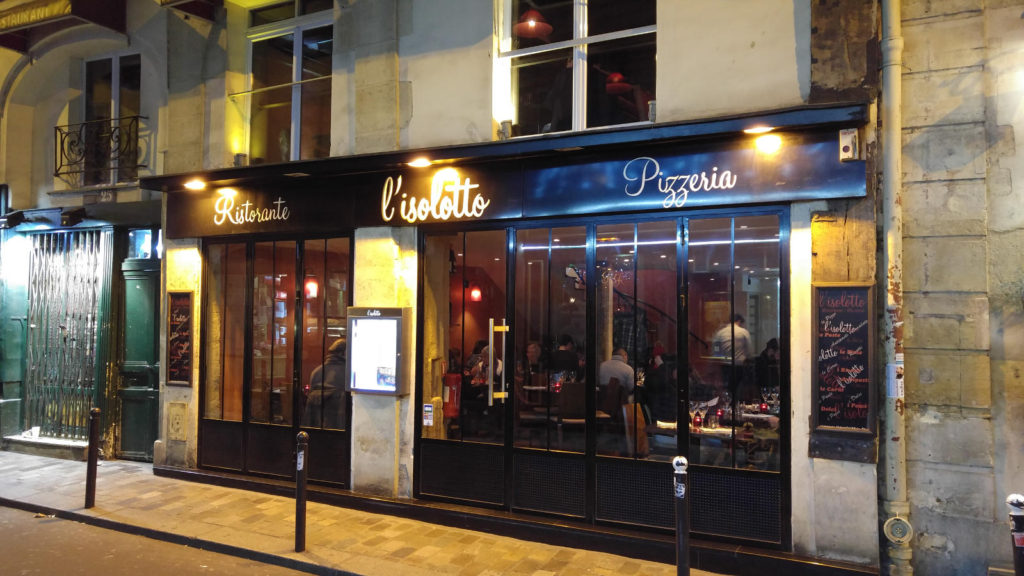 Feeling very satisfied with our meal we make our way back to the hotel for the night. Adam had booked in the exclusive private swim spa/pool for the night so we hurry back for that.
Towel in hand, we head down about 4 winding staircases until we get to the elusive spa area. Using a keycard we got from reception we buzz ourselves in.
It was only a room about the size of a bathroom, fully tiled from top to bottom with small mosaic tiles.
Adam jumps in and gets the jets flowing while Linnie relaxes on the leather lounger by the spa. The room was so warm it was nearly sauna like. Heaven after the cold day we had today.
We relax in there for an hour before heading back up to the room and tucking ourselves in. We have an early start in the morning bound for London!
More Photos from Paris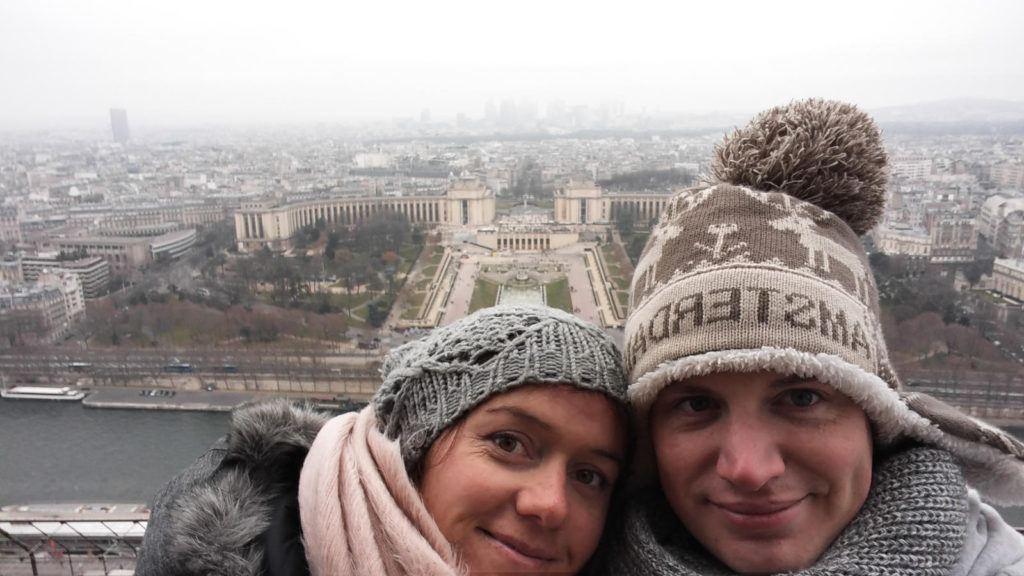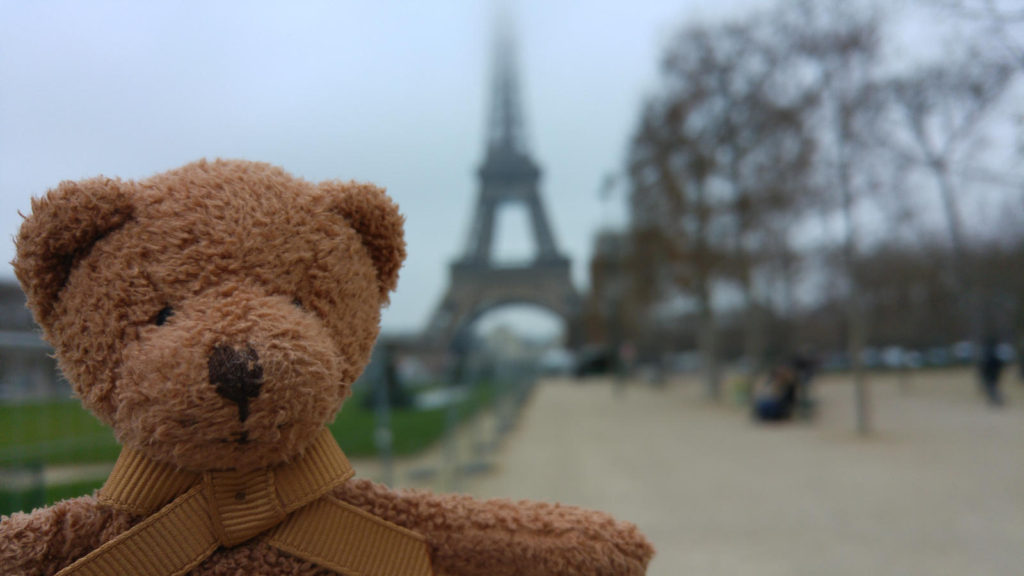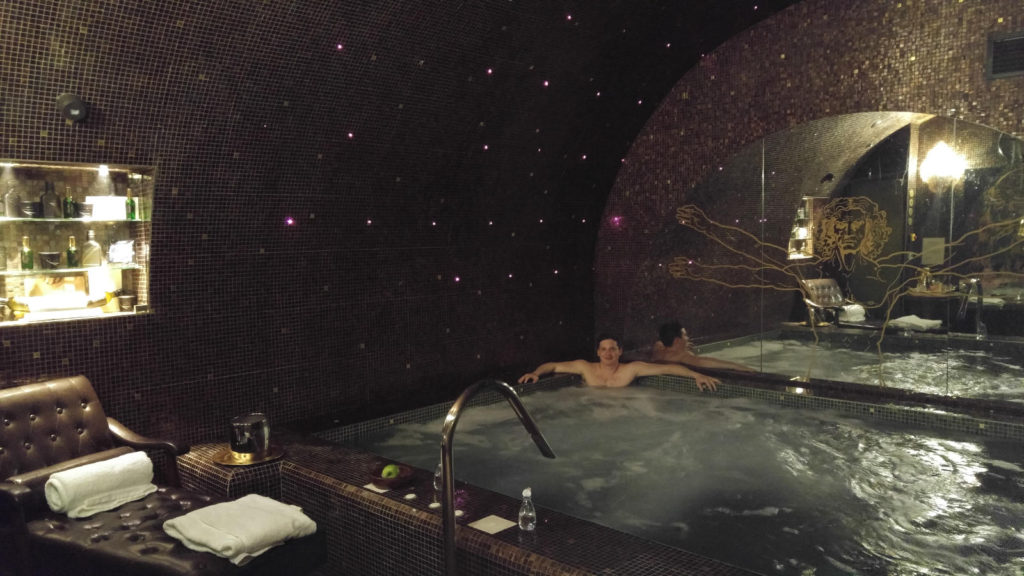 Where We Stayed in Paris