Today we woke up to a beautiful scene of land, mountains and civilisation out the window, we had made port in Ketchikan.
We make our way up a few flights of stairs to the dining area and make ourselves some cereal and eggs and then head straight down to level 2 to check ourselves off the boat and onto dry land.
Ketchikan was a small little town literally in the middle of no where, there were shops from one end to the other made especially for the thousands of cruise boat tourists that come by every day.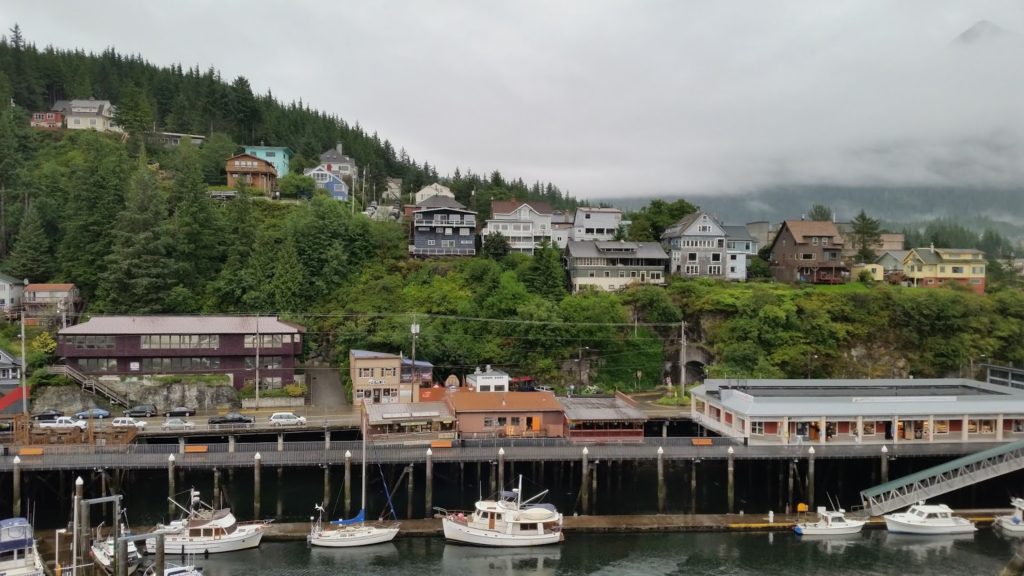 Before exploring too much we book a city tour with what would turn out to be the strictest grandma of a tour guide we have ever had, and we've had a few doozies on this trip!
We get piled into a little bus and then get told the rules, no talking on the bus unless it's to me, no standing up, use proper time management and this one poor lady had a sooky little kid that grandma psycho pants made sure that the mum had toys and food for it… Uhh rude much?
Making clear that we only had exactly 2 hours for the tour, we get off the bus after a short drive up the road to one of the many small rivers that run through the he town and into the ocean.
There was a nice viewing platform that took you out to see all the salmon that were swimming upstream which was pretty cool to see.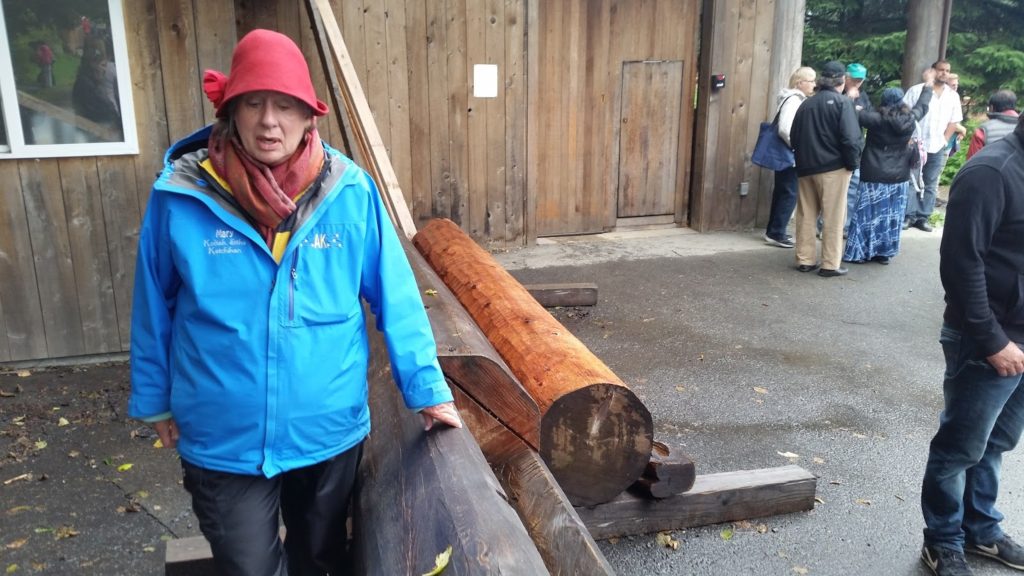 Next we walk to a bridge, but we wouldn't dare cross to the other side for fear of psycho grandma tour guide telling us off, which a poor little kid found out the hard way.
We got to see some more salmon and then it was "MARY'S GROUP BACK ON THE BUS, IVE BEEN KNOWN TO LEAVE PEOPLE BEHIND!"
Next stop was a nature trail up behind some houses and along a river stream, it was a bit of a wildlife spotting stop as one guy saw a bear and we all saw a lot of bald eagles.
Once again, the nature trail over we are lead by a striding psycho pants to the bus and onto a totem pole park.
As it turns out, totem poles were made to tell a story, the bottom being the start of the story, the Middle and the ending being at the top, who knew they had so much to say from just a few carvings.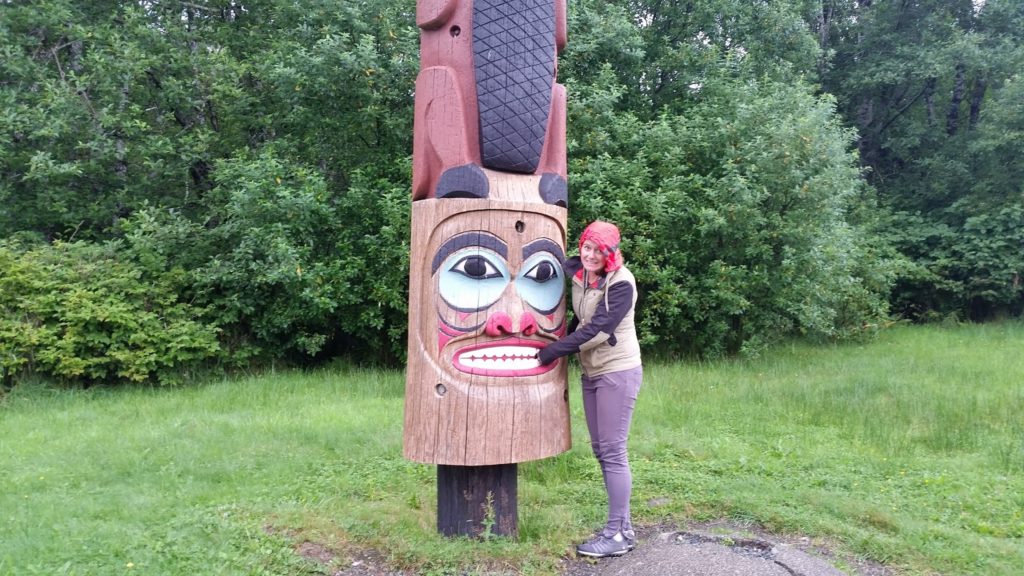 We saw how they were carved and painted and even saw a workshop with some pieces that were being restored. We wandered around the park for a little while checking out all the stories and then made our own way back to the bus, we were the last ones onboard with everyone waiting for us, it wasn't our fault that nature called right before we were meant to wait…
Our tour over we get dropped off downtown, fair to say our guide didn't get a tip or a goodbye, not even a thankyou, she was a bossy old lady who needs to treat her customers like they're no.1 and stop worrying them about how tight of a schedule you're on!
We got free tickets for a tour around 'Dolly's House' which was a brothel back in the day. This Dolly lady used to run a whole chain of them in Ketchikan so they decided to continue all her belongings into the one house and make a little museum out of it…
It wasn't too bad, but only took about 10 minutes to walk through.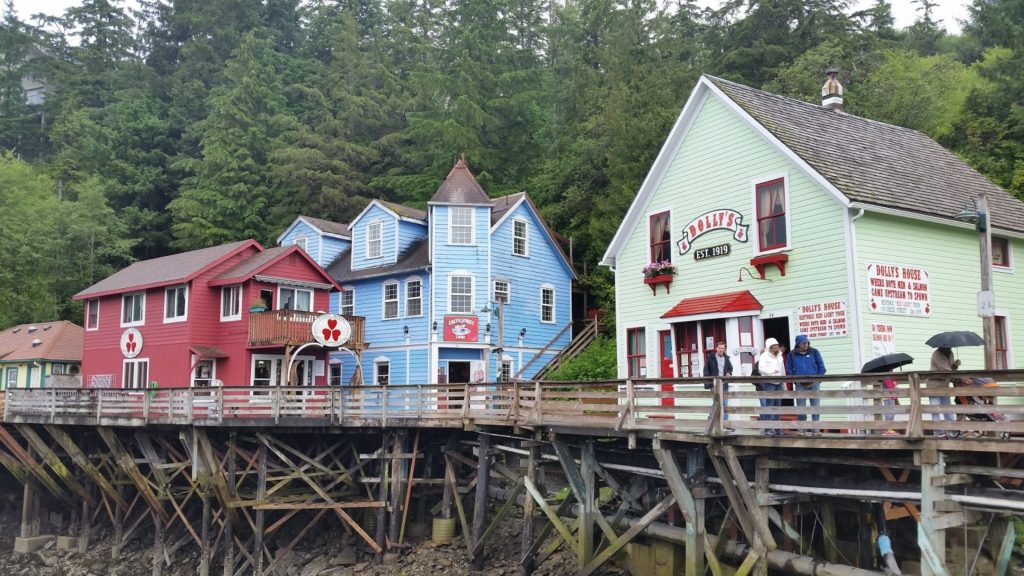 Taking ourselves on our own downtown tour, we walk along the boardwalks behind houses, inside shops and up stairs to get some great views of the city.
Feeling like we had seen the best of Ketchikan we make our way back to the ship for lunch and then decide to just hang around in near empty boat and snag the best seat in the house, a little comfy pod that faces the window and sat inside the warmest part of the ship that houses the indoor pool and 2 saunas.
A bit too nice in here as we fall asleep for nearly 2 hours.. Oops!
We head up the lawn club area, claim a picnic blanket and lay in the sunshine while we listen to an acoustic singer and chow down on a cheese platter.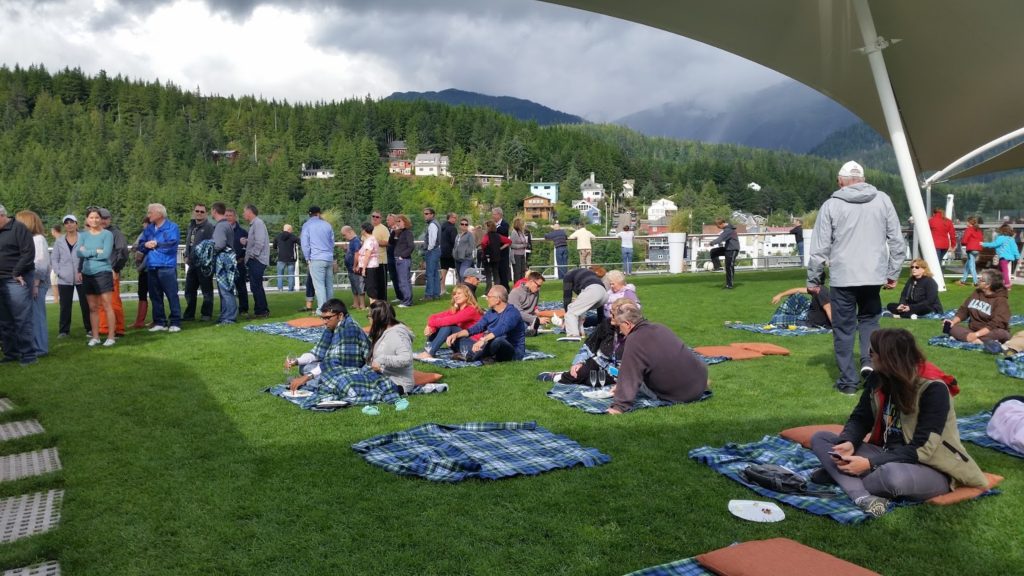 Not being able to take tooooo much relaxation, we walk around to the back of the boat for a look and see a bunch of kids playing basketball on the outdoor court, so Adam having withdrawals runs to get his shoes and joins in for a good hour…
Although I think even though he scored an epic 3 and made many crucial steals, his team may have lost the 3 on 3 by a whisker.
With dinner time being served in the seated dining room at 6 we head in and take our usual table and get served straight away by Sapri and Anastasia.
Deciding to watch a movie tonight in the theatre room we have to eat pretty quick as we only had an hour to get there before the movie started.
We make it to "Celebrity Central" for the movie interstellar which was a confusing but really cool movie.
Time getting on quite a bit we go up the the top deck to watch the sunset while we sip on our warm hot chocolates and have a night cap, a very busy day had been had and we were really looking forward to waking up I in a whole new landscape tomorrow.
Other Photos from Ketchikan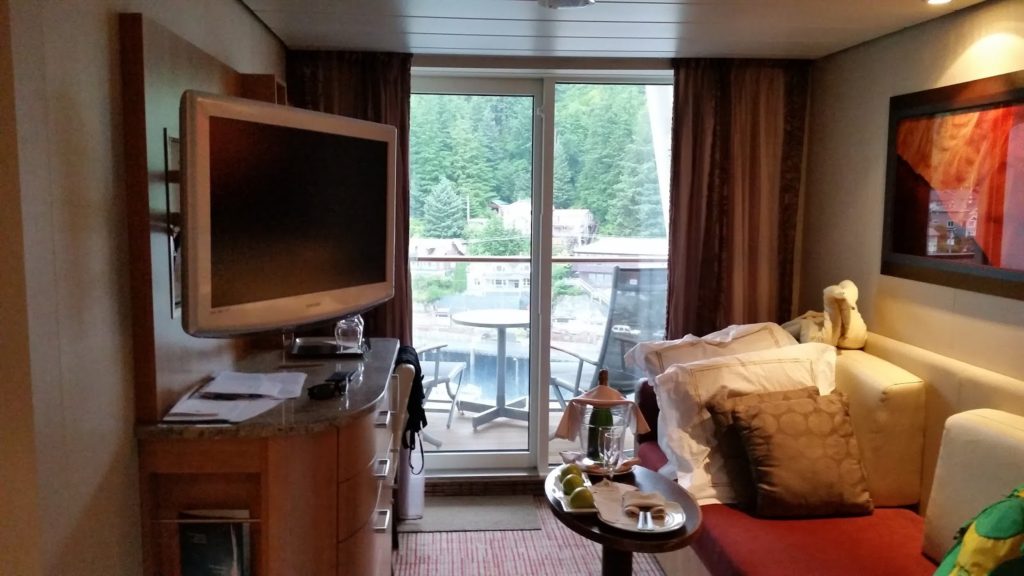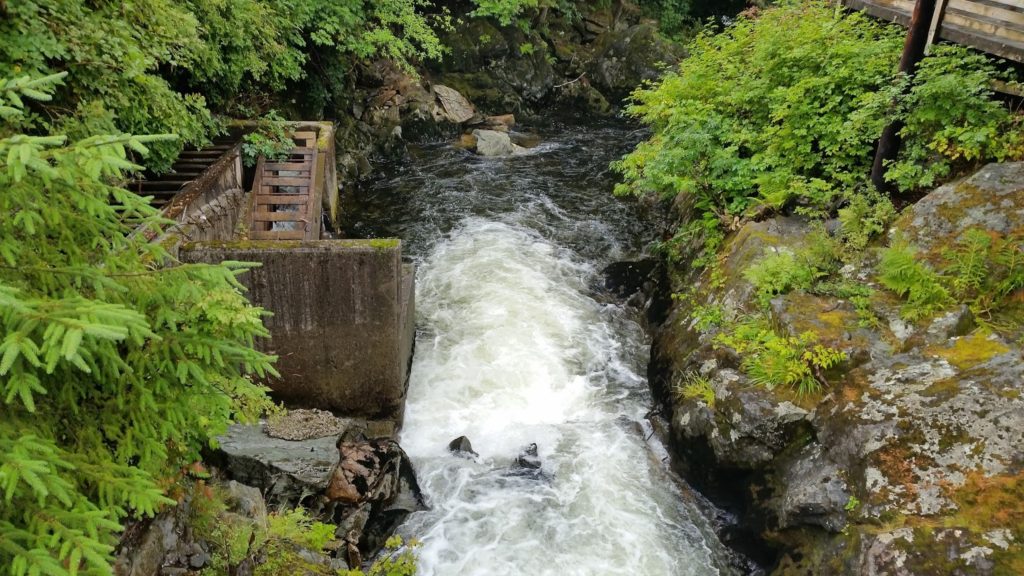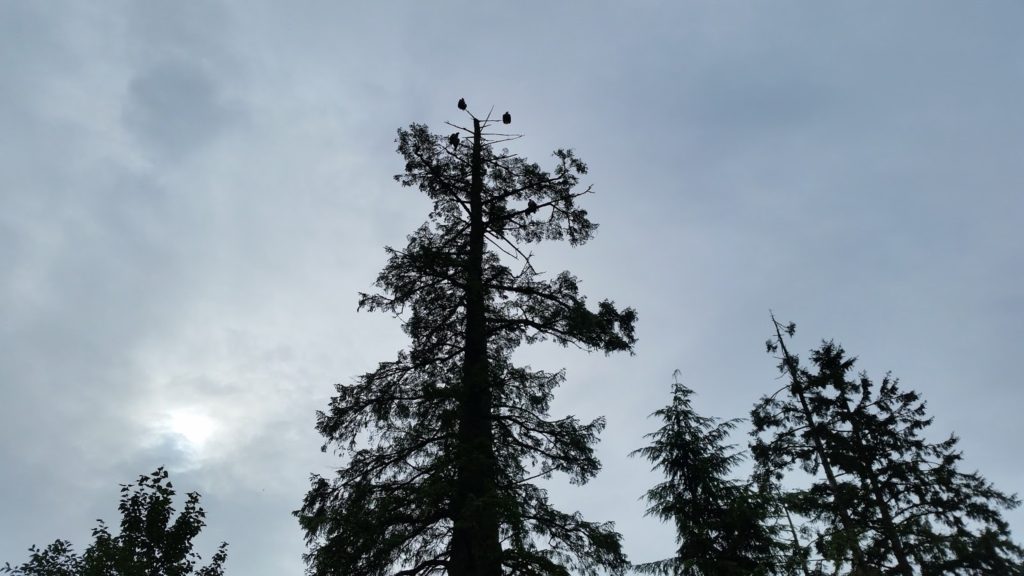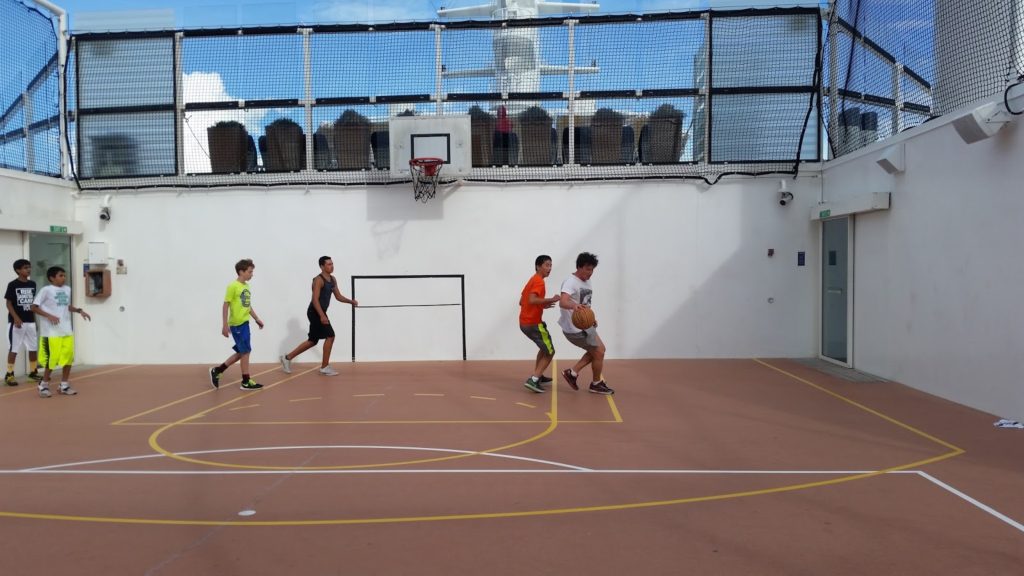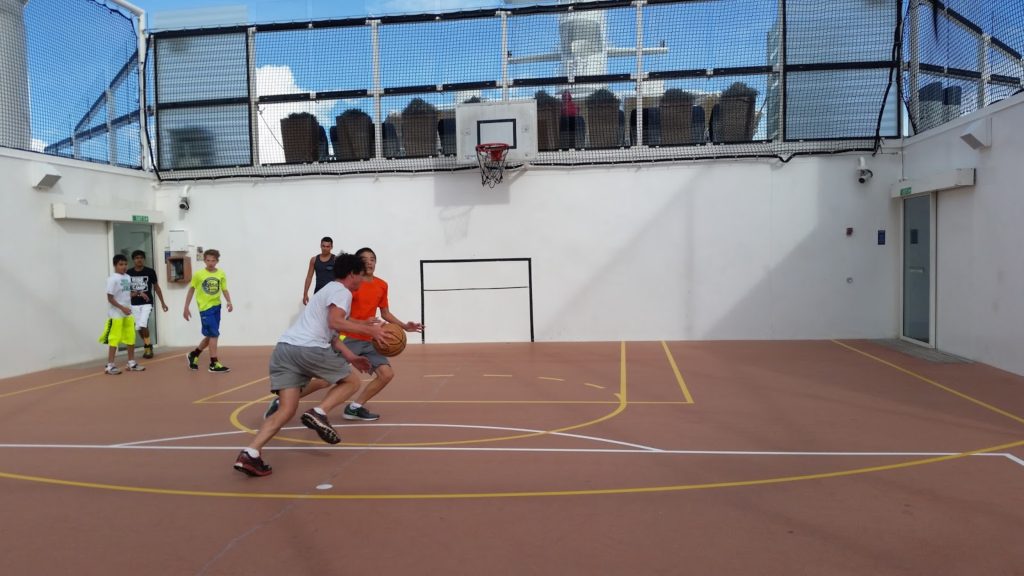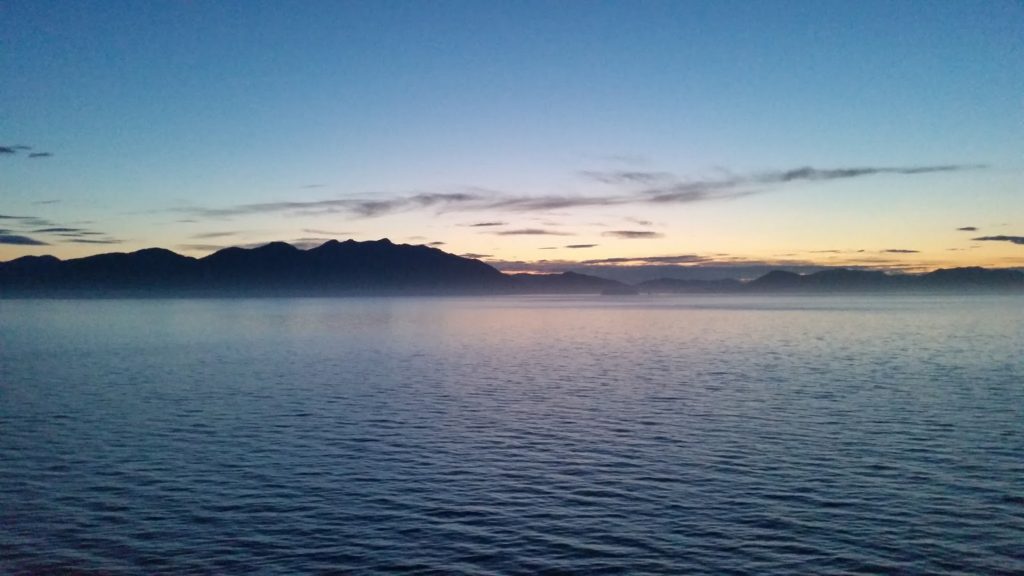 Map of Ketchikan